As you might have noticed, we have been busy in the store accommodating new yarn arrivals for fall. In fact, I am guessing the ladies are still busy today and we will be so for a while longer. I have been busy at home also, there are some renovations going on and I am not as well organized as I would like to be and almost forgot that it is actually Thursday.
My post today is an answer to a comment I received on "Yarn Cocktails" (Christine, please excuse the tardy reply, I hope this post will serve!) asking a bit more about combining yarns for your projects.
The first question was if there is a list of equivalence for number of strands adding up to what weight – complete, if possible. Well, I do have a list, however, it is not complete. Not complete in the sense of 'there are so many more possibilities that it is impossible to make it complete'. I do think that it will help to make up your own yarn cocktails in the size you want.
The number of plies in a yarn was used to categorize yarn sizes once. As I have written before, this system was abandoned in favor of the classification we have now (Cobweb, Lace, Fingering etc.). Lucky for us, this information is still available and can help categorizing yarns we put together ourselves. I wouldn't say it is foolproof, yet it is helpful to get an idea what you are actually doing when combining yarns.
Here is the list:
Cobweb – 1 ply
Lace – 2 ply
Light fingering – 3 ply
Fingering – 4 ply
Sport – 5 ply
DK – 8 ply
Worsted – 10 ply
Aran – surprisingly also 10 ply
Bulky – 12 ply
Using this as a guide line and your math skills, it is easy to determine that, for example, a fingering weight can be made up by combining two strands of a lace weight yarn. If you put two fingering yarns together, you get according to this list a DK weight (maybe a light worsted, depending on the fingering).
As you can see by these two examples already, it is not a watertight method, but more a guideline. Which is very useful when you try to find a combination to knit that sweater which was originally knit in a worsted weight. A light weight mohair yarn like Rowan KidSilk Haze counts as a fingering weight yarn. So count it as a 4 ply when adding up the numbers. As ever, checking your yarn label helps!
The next question is about how to calculate the amount of yarn necessary for the project. Let's say the amount you need is 650 yards of yarn. You want to make up your own by adding a strand of mohair to a fingering weight yarn. The fingering weight yarn comes in skeins of 420 yards, the mohair has 229 per ball. Now, you need to buy 2 skeins of the fingering yarn and 3 balls of the mohair to complete your project. Please do not add up the yardage of the fingering and mohair – remember you want to strand it. In this case you have 840 yards of fingering weight and 687 yards of mohair. Which in return means that you can knit 687 yards double stranded.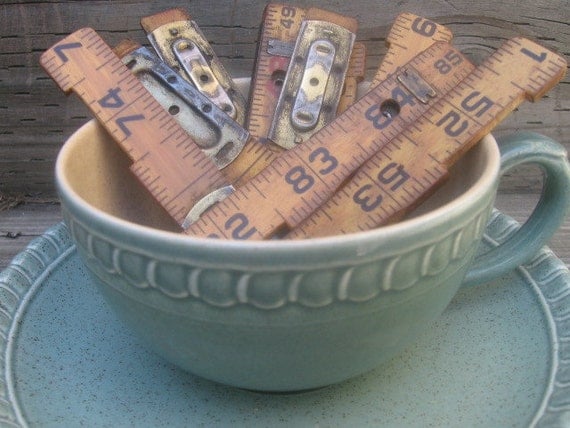 (picture from here)
Last but not least for today is a possibility to find out what kind of yarn you actually produced by putting together two or three different ones – and you don't want to rely on the ply number. Spinners use "wraps per inch" to determine the size of what they have spun – and it serves also in this case. There are little gadgets out there, like this one – but in a pinch a ruler will do. All you have to do is wrap your yarn around the tool until the inch mark. Count your wraps. (wpi – wraps per inch)
Fingering – 14 wpi
Sport – 12 wpi
DK – 11 wpi
Worsted – 9 wpi
Aran – 8 wpi
Bulky – 7 wpi
Super Bulky – 5-6 wpi
Happy Knitting, as ever!
– Mona